Three weeks ago, we went to the Thursday
Portland Farmers Market
, located at
NW 23rd and Savier
. There we met lets of people who were interested in learning more about the GMO-Free life. Some were new to the idea and wanted to know what they were. Others were already familiar with them and just wanted to know how to avoid them. We had lots of literature to give away that covered both topics. We had the
Non-GMO Shopping Tips Guide
and the
Health Risks Brochure
from the
Institute for Responsible Technology
. We gave these out as a set with our business card attached. We also had a brochure from the
Oregon chapter of the Physicians for Social Responsibility Campaign for Safe Food
(
Email the Director, Rick North, to get on his mailing list
for his funny and shocking up-to-the-minute newsletter) about the
rBST in milk and other dairy products
. See the link on that page for "
Know your milk
" which you can view or write to us for a printed copy- a very well done booklet. We had post cards on hand from the PSR addressed to Dreyers and Breyers/Good Humor ice cream companies, asking them to discontinue the use of rBST in their products. People can just sign their name and mail. We even have the stamps on hand to make it easier for them!
On the fun side, we had menus for our
patron
restaurants,
Cravin Ravin
,
Paga G's
and
Proper Eats
. We also had store flyers from patron
Alberta Co-op Grocery
, plus
Food Front Cooperative Grocery
(remember you don't have to be a member to shop at our co-ops, but there are neat unexpected benefits) and really neat things from
New Seasons Market
, including a new sustainable seafood brochure including the wallet card
Seafood Watch from Monterey Bay Aquarium
. There was a flyer from our newest patron,
Dave's Killer Bread
, listing all of their products.
Bob's Red Mill
joined in with a flyer for their products and a coupon for Steel Cut Oats. Lots of options to let people know where to go to find GMO-Free food in the Portland area.
For the kids (or kids at heart!), we gave away stickers from Dave's Killer Bread and temporary tattoos from Alberta Co-op Grocery. How cool of a grocery do you have to be to have a tattoo!? We also have a gumball machine filled with organic jellybeans! Oh and although this is organic junk food, the jelly beans have no non-GM or GMO high fructose corn syrup or the abomination "organic" high fructose corn syrup because Alberta Co-op grocery doesn't carry ANY Hfcs!) An added attraction that brought children (and their parents) over to our booth was our very soft and huggable dog Austin. He doesn't eat GMO's. He is a "huggle" - a husky beagle mix.
We had a great time talking with everybody. We will be out there in NW PDX again this coming Thursday, September 9, from 3pm to 7 pm. We were next to Food Front and the Portland Farmers Market info both right when you come in and we really enjoyed making new friends because they are so nice and helpful. We had FF's fresh gaspacho samples and laughed at the funny PFM tee-shirts. We also had a lot of amazing fruits and vege's that day. We will have a booth sometime at People's food co-op's own farmers market they've confirmed (the year-round farmers market!) and we will be at the
Tigard Farmers Market
10/17, 10/24, and 10/31 (boo!) from 9-2pm. We will add more to the
calendar
which also gives links. We hope that you will take this opportunity to meet us in person, enter drawings if we have gift certificates again (it's ok if you know us or are even family- they're just little prizes), get a tattoo, and ask questions or tell us what you want on this site. We would love to see you there!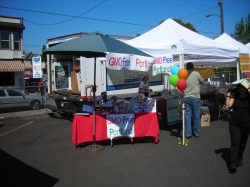 Our booth at Portland Farmers Market, right next to Food Front's booth.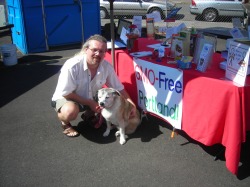 Ernie and Austin in front of the booth.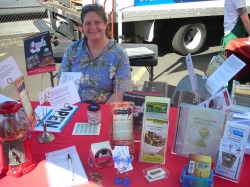 Mary at the booth, giving away flyers and menus.