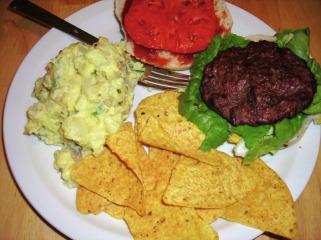 Last summer, Dad shared some of his garden space with us. That garden contributed to this yummy meal we made last fall. The burger is
Pacific Village 100% grass-fed beef
from New Seasons. The bun is an organic onion bagel with organic tomato and lettuce from the garden. The organic tortilla chips are from
Kettle Chips
, made in Salem. The highlight of this meal though, is our Chipotle Potato Salad to the left. The Chipotle peppers also came from Dad's garden. We've taken this to many potlucks and shared this recipe. This was the recipe that we began our recipe box with (a.k.a. the bin with scraps in it.)
Chipotle Potato Salad with all organic ingredients:
5 medium-large organic potatoes (approximately 3 lbs. Red, yellow, brown or mixed varieties)
1/2 cup
Grapeseed Oil Vegenaise
(purple jar)
3 hard-boiled eggs, diced (optional, omit for vegan recipes)
3 tbsp. agave syrup
2 tbsp. organic yellow mustard (or 1 tbsp. mustard powder)
2 finely minced chipotle peppers
1/2 cup finely chopped yellow onion
2 tbsp. finely chopped parsley
1 tsp. ground cumin
2 cloves minced garlic
Salt & Pepper (optional, season to taste gradually at last step)
Scrub potatoes, leaving the skin on. Place the potatoes in a large pot and fill with water until potatoes are covered by an inch of water. Heat the water to boiling. Boil potatoes for 25 minutes. Drain and refill the pot with cold water. Set aside for at least 30 minutes.
While waiting for the potatoes to cool, chop up the eggs, onion, garlic and *peppers. When the potatoes have cooled sufficiently to touch, dice them up into ½ to ¾ inch cubes. Put diced potatoes into a large mixing bowl. Add all other ingredients and stir. Add additional honey, mustard, Vegenaise, parsley, cumin, or **salt to taste. If time permits, place the finished potato salad in the refrigerator overnight. This will allow the oil from the peppers to seep into the potatoes, giving it a little extra kick!
Makes approximately 8 servings. If you are taking this to a potluck, put out a warning sign to alert people that it is spicy! We actually make a list of all ingredients so that people with diet restrictions can choose accordingly.
*Here is a tip to save your fingers from burning. Use a hand-held electric coffee grinder to chop up the peppers. Shake it up and down to force the lightweight flakes through the blade. If you wipe out the grinder carefully, you can use it for coffee, chilies, anise, rosemary, cumin or blends. You can pick up a used grinder at Value Village, which benefits the Arc.
**This is a low sodium recipe, with about 85 mg sodium per serving from the Vegenaise.
Please help our site by crediting as GMO-Free Portland's Chipotle Potato Salad and pass it around. :)