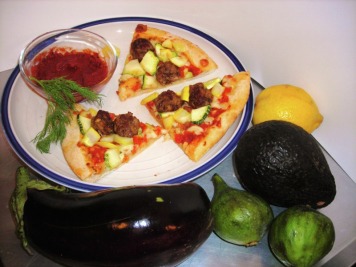 Rising Moon Organics' Margherita Pizza
topped with
New Season's Spicy-hot Italian sausage
(one link per pizza, cut into 12 pieces and grilled before adding to pizza), lemon-cucumber squash and zucchini. Dipping sauce made with equal parts tomato paste and water, plus tsp. garlic powder, tsp. salt, 1 ½ tsp. onion powder and Tbsp. Italian Seasoning, heated.
Displayed in front of plate: eggplant, fresh figs, avocado and lemon.
We got the squash, eggplant and figs from Zenger Farm just for going to the 4 pm guided tour that happens during open house Fridays. You can
go to Zenger
too- its on SE Foster right on the bus line. No kidding. We're writing the August Featurette about Zenger right now in the "New!" tab.
Price $5 for Pizza base at New Seasons, $0 for squash, $1.16 for sausage link (NS) + can of organic tomato paste (half price if Costco for 12) or $1.29 max at Freddy's. Everything else we had. $7.45 total
Please help our site by crediting as GMO-Free Portland's easy zucchini sausage pizza and pass it around :)