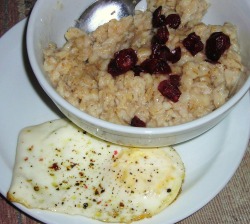 Here is a quick and easy breakfast idea. Make up some instant oatmeal. Just pour boiling water over the oats, stir and let sit for a minute or two. (I recommend the
Organic Quick Cooking Rolled Oats
from Bob's Red Mill). Add a little bit of
Aunt Patty's Organic Agave syrup
and dried cranberries!
The egg is free-range organic from
New Season's
. This was fried over-easy in olive oil, topped with a fresh-ground pepper blend (black, white, green & red peppercorns). Sometimes we add some fresh dill or freshly grated organic Parmesan. Total cooking time for both of these items should be under ten minutes. A great start for the day!
(Added: To Ernie, from Mary.... your addition of organic cranberries is brilliant. mmm! If y'all haven't had that before you won't believe how yummy.)
Please help our site by passing along, crediting GMOFreePortland.com