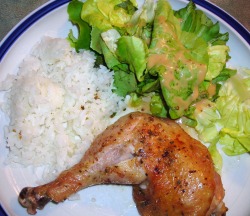 Sometimes, it really isn't about individual recipes. Instead, the focus is on the whole meal. Even then however, preparation can be quick and easy, with minimal clean up afterwards. Total cooking time is under an hour, while the actual prep time is just a few minutes.
We will start with the chicken. Organic, free-range chicken is the one meat that we can consistently find in a number of stores in the Portland area.
Fred Meyer
,
Safeway
and
New Seasons
all carry organic chicken, either whole or in parts. We prefer to purchase a whole fryer and separate it. One fryer provides enough meat for three meals for Mary and I. Typically, we spend under $15 for a 4.5-5 pound bird at $2.99 per pound. We got good
instructions on cutting up the chicken
on c
ooking for engineers
.
I removeed the thighs and drumsticks, leaving them whole. I then placed the thighs in a glass baking dish. I drizzled olive oil over the thighs and coated both sides with freshly ground exotic pepper (black, white, green & red peppercorns), kosher salt and oregano. I placed the dish in the oven and baked it at 350 degrees for 50 minutes, turning the thighs over after 25 minutes.
While the chicken was baking, it was time to make the salad. The salad shown here is organic butter lettuce. Wash and shred the lettuce, then top with
Field Day's Organic Lemon Tahini dressing
.
The rice is also easy. In a microwave-safe glass container, add one cup of rice and 1½ cups of water and stir. To make clean up easy, simply put a paper towel under the dish before you start cooking. Any rice that spills out will land on the paper towel, instead of the bottom of the microwave. When the chicken has ten minutes left to bake, place the rice in the microwave and cook for five minutes. Stir and cook for another five minutes. Top with fresh organic butter.
Place the chicken, rice and salad on a plate and serve. After dinner, the glass dishes can be quickly rinsed out with soap and water. No need for heavy scrubbing if you start cleaning while the dishes are still slightly warm.
Please help our site by passing along, crediting GMOFreePortland.com