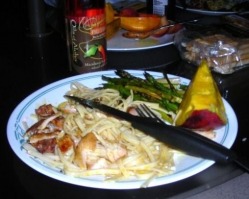 Here is something we discovered early in our quest to become GMO-Free. When we stopped eating GMOs, we discovered that we had to dispose of almost all of our oils and sauces, since the majority of them were made with soybean or canola oil. Losing the spicy stuff was one of our biggest disappointments. It was in Hawaii that we found a replacement. While on vacation in Kona, we avoided eating out. We had a plan that we were going to make all of our own meals while we were there. This would let us save money
and
avoid GMOs. The hotel we were staying at was supposed to be equipped with a full kitchen. This "
full kitchen
" turned out to be just a small microwave and a coffee maker! However, there was a community barbeque next to the pool. So we hit the local farmers market for veggies and a couple of local grocery stores for fresh meat and seafood. We then proceeded to grill all of our meals. That's right! Fresh, homemade, poolside, barbeque, every night! It was at
Island Naturals
in Kona that we discovered
Pele's Fire
, a chili-infused Macadamia nut oil, from
Oils of Aloha
. Our first meal with this wonderful oil is the dish you see here. We grilled up a couple of chicken breasts, diced them up and put them on a plate of noodles. We then topped this off with the mac-oil. Accompanying the chicken & noodles is asparagus, also cooked on the grill, and fresh, organic mango. We brought a couple bottles of this oil home with us, and have since
ordered more
. This has become one of our favorite meals. Sometimes we use a chicken breast, other times it will be a thigh or leg. Most of the time it will be cooked on the outdoor (gas) grill, but pan-frying is an option if the weather is uncooperative. Cooking time will be about 25 minutes on high with the outdoor grill. If you choose to pan-fry, I would suggest dicing up the chicken and cook over medium heat for about 15-20 minutes. The noodles will vary a little as well. Sometimes it will be a fettuccine style like in the photo. Other times it will be angel hair pasta or a Japanese Soba noodle. In any case, the noodles will always be organic. Bring the water to a boil, add about a tablespoon of oil and add the noodles. Cooking time for the noodles will be about 8-10 minutes for Italian style pastas, but only about 4-5 minutes for Asian style noodles. If you are one of our local friends,
contact us
and we will have you over for a meal. We hope you will enjoy this little taste of the islands.
Please help our site by passing along, crediting GMOFreePortland.com.