Put ¼ tsp each oregano, mint (maybe extra mint!), basil, thyme, marjoram, and kosher salt with 2 tbsp extra virgin olive oil right in a nice sized glass baking dish, like 8x8x2". The tall jars of spice are $1.98 at Winco, no kidding. Figuring in that you have some and whatever you buy you'll use again, we'll call spice $1 for this recipe. Our 33.8 oz Napoleon brand olive oil at New Seasons was $9.99- sometimes its on sale.

4 chicken thighs (this time with bones and skin) Fred Meyer $4.18.

I spread the spice / oil mix around in the dish, put in the thighs and rubbed them around on both sides and under the skin. We cooked at 400 degrees for 45 minutes, flipping them at 25 minutes. The chicken fat and most of the oil remained in the dish when we removed the chicken.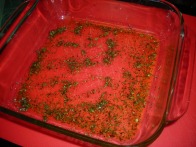 Here are a few pictures- the olive oil & spice mixture, Ernie with the baked chicken and our dinner. Hey- its after midnight. It's halloween! Like Ernie's shirt?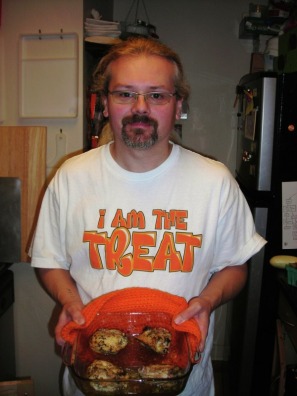 The salad was all about the Feta. I saw the new Organic Valley Feta at Food Front because we tabled there today- $1 less than other places- next to the shelf coupon for $1 off and built the salad around it. (This coupon was $1 off for 2 products, sometimes they are for just one.) We're now committed to using Feta- probably for salads or antipasto this week. We're okay with that!
We got a huge head of organic Romaine at Fred Meyer for $2!

1 Roma tomato $0.75
1 package Organic Valley Feta $4.99 with coupon
1 large head of organic Romaine lettuce (Fred Meyer) $2
Annie's creamy balsamic is shown here ($4), but we also use Ernie's own mix of balsamic vinegar, olive oil and Italian seasoning that we pay very little for per serving. (If you like it sweet, add cane sugar or agave. We've seen creamy Italian dressings with mustard powder, cream, and clove in the store.)

We'd suggest adding cucumber and mushrooms, but this was just fine as is!
Also shown, a fig from Food Front and some Nature Bake bread with butter.