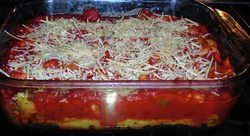 Note: prices are for what you have to buy for the whole packages. If you don't use the whole item, consider the cost less.
Dishes: 2 skillets (one large non-stick for polenta and later filling, one medium or large non-stick or cast iron for chicken at the beginning), glass baking dish 9"x9"

Ingredients:
½ to 1 jar Muir Glen Italian herb spaghetti sauce - $4/jar Fred Meyer (note: money saving tip: thin the pizza sauce recipe on this page, [equal parts tomato paste and water, plus tsp. garlic powder, tsp. salt, 1 ½ tsp. onion powder and Tbsp. Italian Seasoning] by half with water.)
½ can pitted Santa Barbara Olive Co. green olives - $3/can New Seasons
4 boneless organic chicken thighs - $4 Fred Meyer
1 roll Organic basil-garlic or plain polenta - $3 Fred Meyer
1/8 tub shredded Organic Valley Parmesan cheese - $4/tub Fred Meyer (note: money saving tip: buy two single Organic Valley (Not Horizon! Greenwashing "organic" factory farms) string cheese to substitute Mozzarella for Parmesan without buying a whole tub of cheese. Just pull apart lengthwise and cut three times and you have shredded mozzarella. It lacks the kick of Parmesan and its not economical in the long run but it does save money on the preparation cost of this dish.)
2 tbsp. Napoleon olive oil New Seasons or Fred Meyer - $10 ($7 on sale often at New Seasons which is announced on their weekly specials page on www.newseasonsmarket.com)

Preparation:
Cut chicken into chunks (about 8 pieces per thigh) and cook in skillet with 1-2 tbsp. olive oil on medium heat until cooked.
Cut polenta and roll in half width wise, stand each half on end and slice into four strips making 8 sections and cook on large non-stick pan on medium-low until browned, flip and finish browning. Remove and line a 9" square glass baking dish with the polenta.
Slice a dozen or two green olives in halves or thirds.
Heat spaghetti sauce, olives and chicken in the now empty, non-stick skillet until warm (or this will have cold spots when baked).
Pour mixture over polenta, top with Parmesan cheese, bake 30-45 minutes at 350 degrees, et Voila! Whatever it is, it tastes like Chicken Cacciatore!

Please help this site- if you pass on the recipe, mention GMOFreePortland.com.