Here is how to make 2 meals cheaply turning mexican into greek food.

You will need: Mexican seasoning or spices listed below, 1 can black-eyed peas, 1 cup brown rice, 50-100 small kale leaves, olive oil, plus avocado, sour cream, and hot sauce to taste, a ground salt- preferably mineral-heavy, 1 small can of crushed tomatoes. To convert to nearly-dolmathes, you will need possibly more kale if you don't have 2 cups cooked kale in the taco filling, 4 rice wraps, 40 mint leaves, 1 medium lemon or pure lemon juice (like the fantastic long-lasting Lakewood lemon juice sold with organic juices in small bottle)

1. Soak 1 cup your choice of non-white, non-wild rice several hours/overnight in 3 cups water. Microwave or boil until rice-like.
2 .Saute a LOT of kale in olive oil (2 tbsp)- if this were a small head of romaine it would take 50-100 leaves. Cook until they are JUST soft. (1/2 way between looking like lettuce vs. cooked spinach, they will look like canned grape leaves. Perfect.)
3. Heat rice, kale, and: 1 can black eyed peas, 3/4-1 cup canned crushed tomatoes (should be marinara-to sauce-like), 1/2 tsp ground exotic salt like pink which is high in minerals (or any salt but table salt), and 3 tbsp Mexican seasonings (Bob's Red Mill store bulk section, or 2 tsp ea. cumin, garlic, cilantro and onion flakes plus 1 tsp chili powder) in skillet
For 6 tacos, use 1/2 this filling total, add 1 huge avocado slice and 2 tbsp sour cream each, or less for less fat! (Avocado is a healthy fat with no cholesterol, but try non-fat plain yogurt to sub for sour cream) and sprinkle on some salsa or hot sauce. We use Melinda's xxx hot sauce which is habanero-like but milder and uniquely flavored (and incredibly good. Makes a pimento flavor if you mix it in sour cream or warmed cream cheese and top with green olive on a cracker)
Tacos with ridiculous amounts of sour cream, in organic blue corn shells from Whole Foods served with fruit for a Cuban feel and to keep the tacos standing while filling :) Refrigerate leftover mixture for tomorrow's nearly-dolmathes lunch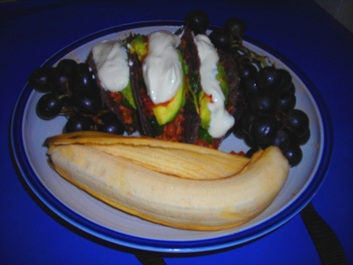 How to convert leftover filling to dolmathes (or facsimile thereof) if you don't eat the filling by itself as-is cold which is a fine meal:
1. Take the chilled remainder (1/2) of the taco filling and remove most of the greens, saving. Its easy.
2. Mix in Lots of fresh mint (40 large leaves ripped once or twice should do) or if you must, add 1 tbsp hot water to 3 tbsp mint flakes then mix.
3. Mix in 3 tbsp lemon juice drop by drop so its even
4. Wet a rice wraps and place on plate, put in 1/4 of the kale spread all over wrap except 1-2" on sides, and 1/4 of filling in a row. Wrap, cut in 1/2, repeat for 4.
5. Serve cold or steam in either microwave (glass dish with cover and 2 tbsp water dripped over for 2 minutes) or stove top steamer.
NOTE: This may make 6 nearly-dolmathes if you use more kale. The amount we used was about 50 small leaves in the mexican dish. Saute some more to make more dolmathes. Also, try a bite and if its not perfect, add more lemon or mint!