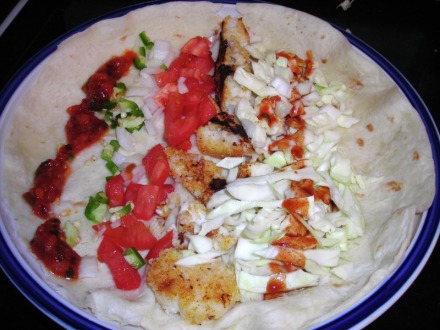 Open Tortilla, toppings left to right: salsa, chopped onion, jalapeno, and tomato, breaded cod, shredded cabbage, and El Tapatio hot sauce.

3 person version below has leftovers. Add 1/2 pound cod and this feeds 5.

1 fillet of cod, 1 lb, $3.99
2 eggs $ 0.60
2 cup bread crumbs (crumble crackers) $2
½ of a $2 cabbage
2 roma tomatoes $0.42
1/3 of a $ 0.60 onion
6 of a 10 ct. package of $5 large tortillas
1 jalepeno $0.09
1 lime $ 0.25
½ cup of a $3.49 pint of salsa
small amount of hot sauce

Total if you have none of this on hand $ 18.22 (Please redo the math subtracting what you already have and see what it actually costs you!)
Leftovers: ½ cabbage, 2/3 onion, 4 large tortillas and ~pint of salsa...
But with $2 more (1/2 lb more) of cod, this would have fed 5 adults for ~$20!

Directions

Cut fish fillet(s) into 1" strips.
Separate and keep 2 egg yolks & beat lightly in bowl
Spread bread crumbs on pan
Heat 1 tbsp extra virgin olive oil on medium heat in large nonstick skillet.
Dip fillets in yolks, wiping away excess with fingers for a thin coat
Roll fillets in bread crumbs
Cook on medium heat until fish turns opaque white (15-20 minutes?)
Coat each tortilla, both sides, with water and shake excess away.
Stack tortillas on a plate, put another upside down over them and microwave 2 minutes- its is ok if they are bigger than the plate.
Slice cabbage thinly for shreds.
Dice tomato, onion and jalapeno. Cut up a lime and get out salsa & hot sauce
Assemble!
Note: If you want them all hot at once since it takes time to prepare each one, assemble all and place in a baking dish or two- and heat at 350 for 5 minutes.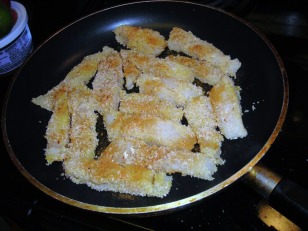 Fish before and after 15-20 minutes over medium heat in 1 tbsp olive oil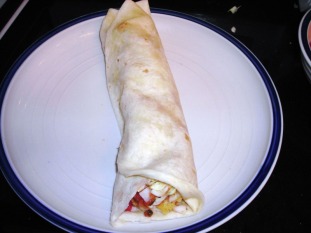 This is the final soft taco- it was never plated. It was immediately eaten- stopping to take pictures was bad enough. But a little salsa, maybe a sour cream and guacamole mixture drizzled zig-zag across on a bed of cabbage with a lime slice? The best laid plans.

Please help our site by passing along, crediting GMOFreePortland.com